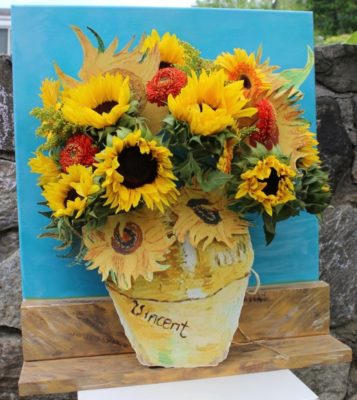 Crushing BIG on these sunflowers!
Art Night at my son's elementary school had me digging deep into the recesses of FlowerCrates' storage to give new life to some old props.  Brightened up a bit with a sweet palette of fresh flowers and Voila!: A floral masterpiece worthy of donation!   I was so honored to display among the amazing works of these kids and our dedicated teachers.  SO MUCH beautiful Imagination.  I just love it!
Lets all keep Creativity In Bloom and, in whatever way we can, support The Arts in our schools.
'Cause, hey, what a drab world it would be without it, right?
Have a nice day!
🙂