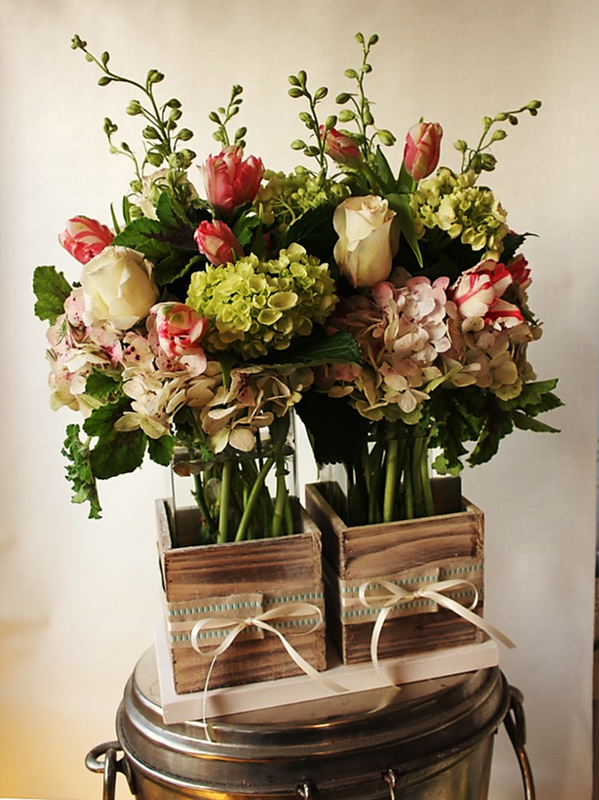 I adore this arrangement almost as much as the thought and sentiment that went into it.  So much so that I am now going to offer it on the site.  It was just such a beautiful way to congratulate a new family on the birth of their twins.  Turning from convention and putting the focus directly on this new mom produced a fresher and truly more inspired gift. Oh, don't get me wrong.  Pink and Blue Bears?  Predictably adorable.  Balloons that announce "ITS A BABY"?  Obvious but still sweet.  Then there are the florist gifts featuring redundantly classic themes.  That poor ol' stork delivering baskets teeming with mostly – c'mon, lets face it – USELESS items, items that only look important when branded with the latest Disney character.  Sure, they may be a bit trite but certainly no less delightful.  When its presented, its all fun. Its all festive.  No worries and no judgment if you've clicked and bought these kinds of gifts as I have so many times in the past.  They are no doubt given with the same thoughtful kindness and truly received with the same loving appreciation.   So, sure, they're cool.  But, I can't help but think that there's a nicer way to give and receive flowers.   Turning away from kitsch, I personally fall back more and more these days on the tried and true wisdom that simple is best, as this new mom of twins is soon to learn.  Yes, Simple is indeed Best!  When taking this order, we asked if they'd like a whimsical theme for the babies or something designed more with "Mom" in mind.
The exact response to my question was:
"Well, her whole world is going to be these babies.  They're gonna get all the
attention from here on out. I think we should give a little of it to mom while she can still get it."
DONE! : )  I love that this family chose "Mom".  So, no bears. No mylar. No licensed characters.  Could be boy. Could be girl. Who knows because this arrangement won't tell.  In its simplicity of just flowers, its mission was to congratulate this new mom on this amazing new beginning.  Gosh, I just LOVE IT!
The Details:
Sturdy in its weight, we chose the WUDBLOK DUO, a perfect container for the job with its "two in one" quality – one vessel for two separate, lovely bundles of beauty.  For those "bundles of beauty" we selected Antique and Mini Green Hydrangea, White Larkspur, stunning Pink and White Parrot Tulips, Sweetness Roses and Scented Geranium.  All in all, I think it came together rather nicely.
Cheers!